What is a children's (paediatric) dentist?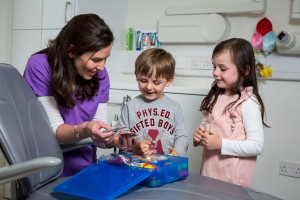 Children's (paediatric) dentists are those that have chosen to work with children and have completed 3 years additional training covering all aspects of oral health care for children, from newborn infants and toddlers, through adolescence.
Paediatric dentists understand that the mouth and tooth structure and dental needs of children are different than those of adults. We also understand that some children are a little anxious about dental treatment and are trained to help children cope with dentistry.
Paediatric dentistry is an age related speciality and we provide basic oral care as well as specialist services including traumatic injuries, restorative care, minor oral surgical procedures and interceptive orthodontics.